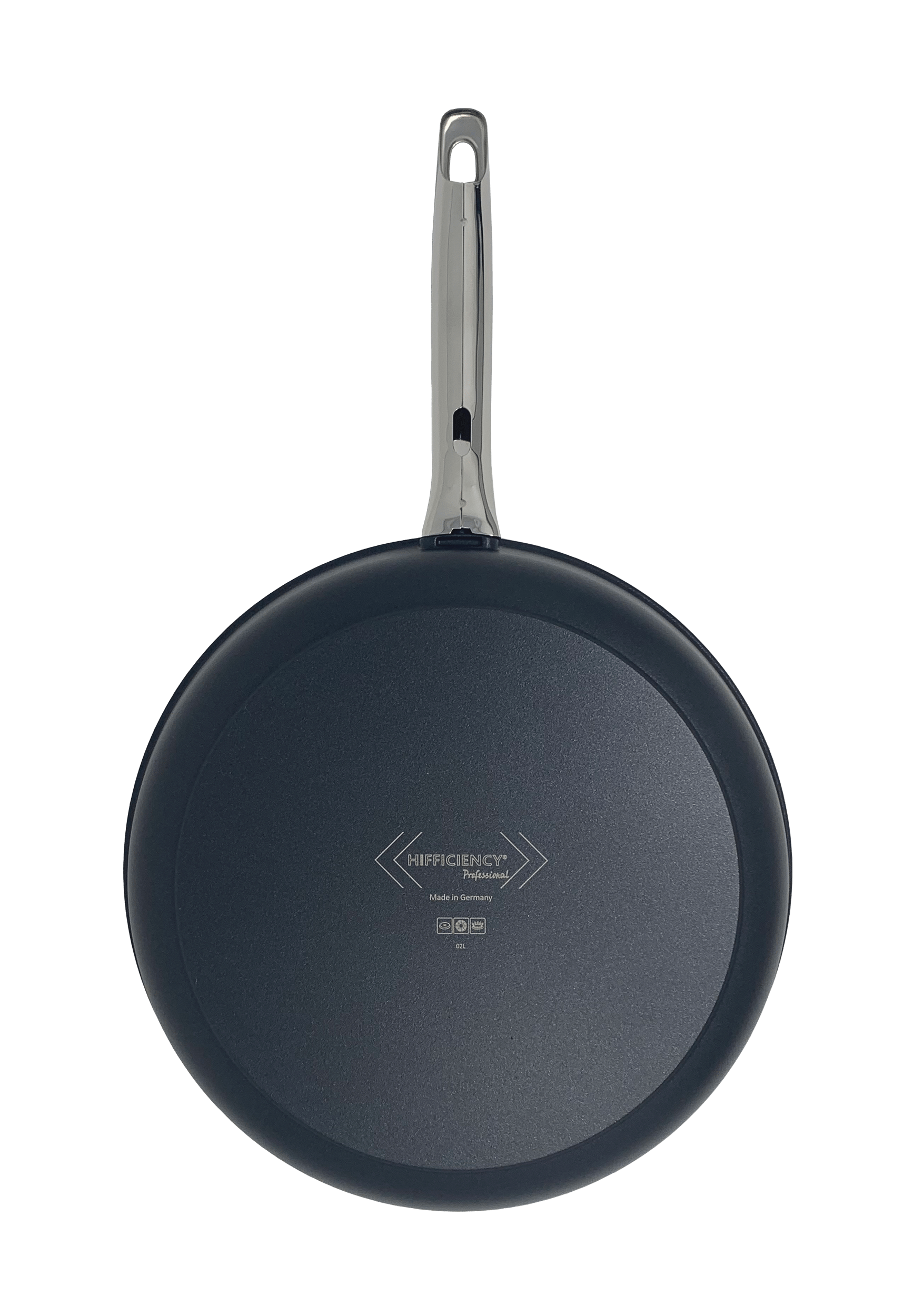 Professional Schmorpfanne
Sale price
109,00 €
Regular price
109,00 €
Tax included.
Product description
Shipping and Payment
Braising pan ø 28 cm by HIFFICIENCY® - stable and high-quality
The HIFFICIENCY® casserole pan is made of aluminium using a new forging casting process. In this way, we achieve that our pan is much more stable and of higher quality compared to mass-produced goods.
In addition, the HIFFICIENCY® braising pan is characterized by an incredibly even heat distribution. This is due, among other things, to the design of the pan, which creates an even distribution of heat over the entire surface. This means that your food will cook more evenly, resulting in a better taste and even better consistency.
Despite its robust construction, the HIFFICIENCY® braising pan is not too heavy and fits very well in the hand. This makes it ideal for preparing more delicate dishes, making it the ideal choice for both novice and experienced chefs.
Compared to our Amador Professional pans, the braising pan does not react quite as quickly to the heat setting on the stove and therefore does not overheat as quickly. This characteristic has led us to give our braising pan the nickname "the cozy".
DURA QUARTZ® coating without PFAS
Thanks to our innovative DURAQUARZ® non-stick coating without PFAS, the alternative to Teflon®, you can be sure that your food will not stick or burn even at high temperatures. The DURAQUARZ® coating is ideally suited for searing meat at high temperatures and ensures very good roasting. Fish, egg dishes, fried eggs, fried potatoes, etc. are equally good. even with a little oil. In an independent test by Haus und Garten magazine, it was also confirmed that our Teflon® and emission-free DURAQUARZ® coating without PFAS has a very good non-stick effect. Cleaning is very easy, of course also in the dishwasher.
Advantages of the braising pan
Stable and high-quality due to the construction
Particularly beginner-friendly in terms of heat setting
Unbelievably good non-stick effect thanks to DURAQUARZ® coating without Teflon® / PFAS
Healthy and low-fat frying
Good capacity thanks to the 7 cm high rim
Great handling and not too heavy despite the (casting) construction
Dimensions and weight of the casserole pan
Diameter above: 28 cm
Laying/frying surface: 22 cm
Inner edge height: 7 cm
Weight 1,200 g
The prices stated on the product pages include statutory VAT and other price components.
Within the German mainland, we deliver with DHL for orders for a freight fee of €5.75. From a value of goods of 100,- €, the freight flat rate is waived.
However, no delivery can be made to packing stations.
You can choose to pay in advance, PayPal, invoice, direct debit or credit card.
If you would like a delivery to an island or abroad, please ask for the cost by e-mail to info@acs-coating.de.
Don't miss a thing!
Enter your email address below to be the first to know about new products and product launches.
I agree to the Terms and Conditions .