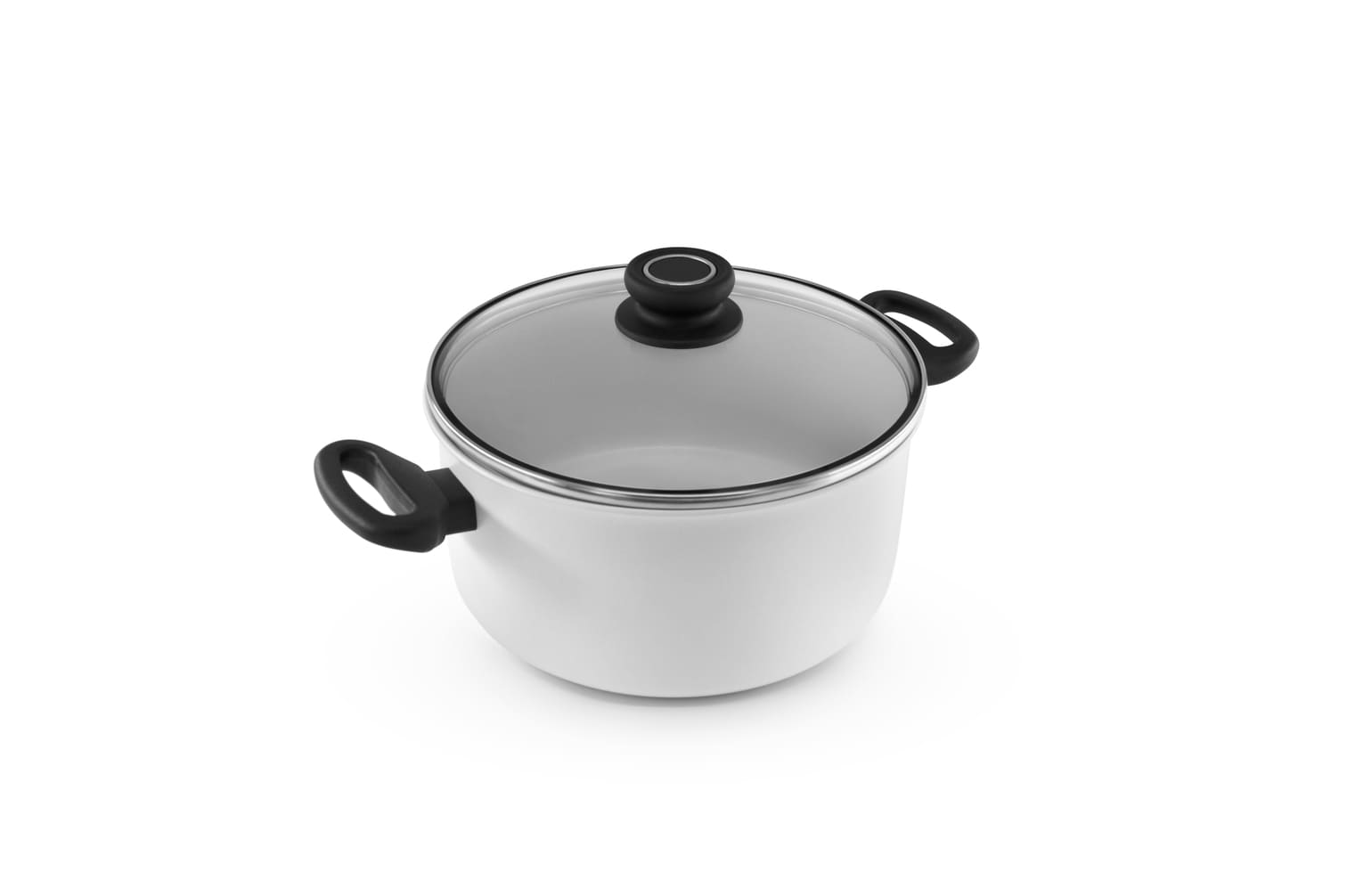 Sale price
159,00 €
Regular price
159,00 €
Tax included.
Product description
Shipping and Payment
The new HIFFICIENCY X-Cook® pot
with Duraquarz 2.0 coating PFAS and PFTE free
Experience the future of cooking with the all-new Hifficiency X-Cook® series. This series presents high-quality pots in the sizes 16cm, 20cm and 24cm, equipped with the innovative Duraquarz 2.0 coating - and all this without PFAS and PFTE. These top-of-the-line pots are now available in elegant black, creamy white and glacier white to add style to your kitchen.

**Excellent heat conduction:**
The X-Cook® pots are made of high-quality materials and ensure even heat conduction. This allows you to prepare your dishes precisely and delivers outstanding cooking results.

**Duraquarz 2.0 coating (without PFAS and PFTE):**
Our Duraquarz 2.0 coating is scratch-resistant, durable and heat-resistant, without the use of PFAS (per- and polyfluorinated chemicals) and PFTE (polytetrafluoroethylene). This innovative coating ensures first-class non-stick properties, which means you need less grease and oil and makes cleaning child's play.

**Elegant design in different colors:**
The X-Cook® pots are not only functional, but also an eye-catcher in your kitchen. Choose between the appealing colours of black, cream and white to enhance your personal style. The glossy surface gives your kitchen a timeless elegance.

**Versatility and practicality:**
This series offers pots of different sizes to meet all your culinary needs. Whether you want to prepare soups, sauces, pasta, vegetables or meat dishes, the X-Cook® pots are the ideal choice. They are suitable for all types of stoves, including induction.

**Durability and Quality:**
Hifficiency stands for the highest quality and durability. The X-Cook® series is designed to serve you faithfully for years to come, meeting even the most demanding cooking needs.

**Result:**
With the Hifficiency X-Cook® series with Duraquarz 2.0 coating (without PFAS and PFTE) you not only get first-class pots in your kitchen, but also a touch of style and elegance. Thanks to even heat conduction and non-stick properties, you can perfect your cooking skills. Discover the world of modern cooking and add a personal touch to your kitchen with the colours black, cream and white. Experience enjoyment and precision in one!
The prices stated on the product pages include statutory VAT and other price components.
Within the German mainland, we deliver orders for a freight fee of € 5.75 with DHL. From a value of goods of € 100, the freight fee does not apply.
However, no delivery can be made to packing stations.
You can choose to pay in advance, PayPal, invoice, direct debit or credit card.
If you would like delivery to an island or abroad, please ask for the costs by e-mail to Info@acs-coating.de .
Don't miss anything!
Enter your email address below to be the first to know about new products and product launches.
I'm with the General Terms and Conditions Agree.