DURAQUARZ® non-stick coating without PFAS
Coated products from HIFFICIENCY®
DURA QUARZ®Is a completely new non-stick coating made of quartz ceramic and PEK for even higher temperatures. Very robust and with a long-lasting non-stick effect. DURAQUARTZ® was developed and patented at acs, and is manufactured only by acs. DURA QUARZ®Is also applied in several layers completely without solvent and does not contain any ingredients of any doubt. The temperature resistance goes (briefly) up to 450 °C, No other pan will be so hot!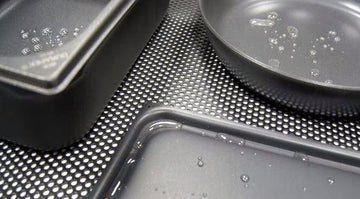 Sturdy and durable
The new ceramic non-stick coating DURA QUARZ®Is twice as thick as conventional pan coatings and is therefore much more robust and durable. The non-stick effect does not allow anything to stick. Due to the excellent heat conduction, the Pan And Grill pan Faster hot and delivers excellent cross surfaces. Our new pan coating DURA QUARZ®Is WITHOUT PTFE, PFOA and is Teflon free . Nothing guest, neither in the oven nor on the stove-for your health.
Patented embossing process
The company ACS has unique know-how in embossing as a result of long successful development work on precision-shaped single-layer cylinder head seals for internal combustion engines. The accuracy of the embossing process with a force of 1200t is in the range of 1000th mm! The highlight of the new pans Is precisely this precise embossing in several stages, which enables a warp-free soil that practically does not warp even at high temperatures and heating rates. The special process and contour are patented.
Based on the findings of the pan embossing process, the contour of the multifrat and baking plate was then developed. This is also warless and practically does not deform in the oven under the influence of temperature (patented). And also the new X-Bake baking trays®Are unique plan and low-delay. It is shaped on particularly strong and stable presses that have emerged from the long tradition of the Solingen cutlery industry and have been further developed for the special requirements.
The processes are closely monitored during production. And last but not least, newly developed tools and processes are also used to cast stable products such as the Amador pan, the grill grate pan and the new cross grill and pizza plate (patented) made of aluminum. These are also flat and extremely stable in oven use. The advantage of the new manufacturing processes is the greatest stability at the lowest possible weight. HIFFICIENCY® products are only available approx. half as heavy as similarly stable products elsewhere. This allows for faster temperature absorption and more fatigue-free working.
HIFFICIENCY® Coated Pans Test
In an independent test conducted by Haus und Garten magazine Test, our multispeed® pan scored very well. The finished fried egg can also be lifted out of the pan using a spatula without adding any fat. And it goes on to say about comparison candidates: "... however, these pans fell ... with unpleasant odours and also changes in taste." This confirms that the Teflon- and emission-free DURAQUARZ® coating has a very good non-stick effect, just as good as the best Teflon coatings, but without their disadvantages.