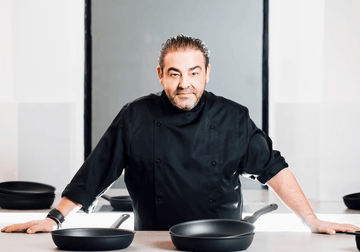 Which pan is the best & why?
Especially with pans there is apparently a confusing variety of different products, all of which are advertised as world champions. How should you keep track of things? Why should you spend more money on a pan when you can already buy frying pans for € 2.00 in certain furniture stores? What is difficult (and expensive) about building a good pan? How does the consumer recognize a high-quality product?
How well a dish succeeds depends of course on a lot. First of all, you need good ingredients, ideally also environmentally friendly and produced according to animal welfare. The preparation then depends on the recipe, of course the art of the cook and also on the quality and properties of the cooking and baking accessories used, i.e. the pan, the pot, the cake mold and so on.
The pans "butt test"
In order to achieve an even heat distribution on an electric stove (this is not quite so important with gas), a pan should be placed at all points with as much (small) distance as possible. If it's already wobbling when it's cold, it doesn't. Place the pan on a flat surface, grab it at opposite edges and try to make it wobble. If it wobbles, the pan is not much good.

The next stage is the tilt test at service temperature after rapid heating. The most commonly used pan temperature is approx. 200°C, so quite a lot. And at 200°C, aluminium is already quite soft. Metals have the property of thermally expanding when heated. That is, they can warp. So they do the test as above with the hot pan. But please don't burn your fingers. Here, too, it should remain free of wobbles and under no circumstances should it have a so-called negative indentation, i.e. a bulge or bumps downwards. If the pan is no longer stable, this can be very dangerous and of course also prevents an even heat distribution.
Cheap bad pans, which may have passed the first tilt test to some extent, are so warped after just one heating up that they wobble afterwards and no longer rest firmly. Good pans pass a test where they are quickly heated to 250°C 50 times and then quenched in cold water. After that, they must keep their initial state as much as possible.
X-PAN® frying pan Ø 28 cm
"Handle well, clean very well, heat it up really quickly, you have to be careful here. Good price-performance ratio. Top «
X-Cook®Roasting and baking plate
"The oven often comes with the typical baking trays, you can't compare this one. The coating is just awesome!«
Amador Professional pan ø 28 cm
"The first impression confirms the description of the pan" stable and robust "and that's why I chose this model."
X-PAN® frying pan Ø 24 cm
"The pan looks even higher quality in" real "-A little heavier than expected-Can recommend the pan"
Professional roasting pan with grill lid
"The part is heavy, but it feels so valuable! Roulades became top in that.'
Juan Amador Bourbon & Honey Sauce
"We received you for a set, we were very skeptical, but the sauce is damn delicious! We've settled down to our last pan order—"
Ground bulge of the pan
The curvature of the ground is more difficult to measure, for example with a tripod with a dial gauge. The curvature of the bottom (indentation) of the empty pan is measured during heating. The better the pan, the smaller the curvature of the bottom or indentation when cold. This should not be more than 0.6mm, it must not be negative under any circumstances. If you heat the pan, this indentation should not increase much or it should not become negative. But beware: The vast majority of pans are indented by several millimeters in this test. So don't be surprised if oil or a fried egg slips to the edge. After heating, the initial value should be reached again, but most of the time it will not. Pans made of steel or cast aluminum, which pass this test well, are usually quite heavy, weighing 2 kg and more. A special feature are Hifficiency pans with a special base made of the new multi-layer material "MultiSpeedMetal®". These do not warp, but weigh only approx. one kilo.
The "crack test"
Some simple induction pans made of aluminum with a soldered steel floor crack the first time they heat up. The connection between aluminum and steel is loosened due to the various thermal expansions. A loosened connection is of course no longer solid and then no longer transmits the heat evenly. If you have a pan with cold areas, it is because the bottom has partially loosened.
Leak test or "hovercraft"
Aluminum pans with folded steel sheet for induction capability can be recognized by the holes in the steel bottom through which you can see the aluminum of the actual pan body. Dip the pan in water, dry it and heat it on the stove. If there is hissing and steaming, the connection is defective and not tight. In extreme cases, the pan on the stove moves like a hovercraft ship on water.
Sale price
104,00 €
Regular price
104,00 €
Sale price
104,00 €
Regular price
104,00 €
What makes a pan special?
These were some basic simple tests before cooking properties are even tested. When it comes to cooking, other characteristics are also important. How does the pan fit in your hand? Is it easy to swivel? Is the grip tight? Is the shape such that the content can be turned by swivelling? In some cases, the preferences are very different depending on the size and strength of the cook.
However, most cooks are not thrilled when the pan is not really stable or the handle wobbles. And if you work in the kitchen for several hours, it's not nice if the pan is too heavy. And if it gets hot very slowly, it takes unnecessary time and it is difficult to set the right temperature. The better the cook, the more he manages to hit exactly the right cooking point. For this, quick regulation is enormously important.
So the best thing would be a pan that is super stable at the same time, doesn't warp, heats up quickly and provides even heat distribution. And then it should be as light as possible and dishwasher safe. If possible, it should not stick to anything without a lot of oil and it should brown well with meat. And it should be healthy, i.e. no PFOA, preferably no PTFE, because toxic acid is produced at least during production, but also at temperatures that are too high. At this point, at the latest, it will become clear why there are so many different pans, although you can actually sort out all those that do not pass the first tests. And these are practically all simple, cheap and medium-expensive pans, unfortunately.
Roast like a pro
And what does the 3 star chef say about his Amador pan? In Vienna in the star restaurant, Dr. Christoph Stecher from acs and Juan Amador the HIFFICIENCY®Pans and other products subjected to the practical test by the star chef himself.
Our HIFFICIENCY®X-Pan did very well in an independent test by Haus & Garten magazine. The finished fried egg can be lifted out of the pan with a spatula without adding any fat. The DURAPEK used®Non-stick coating is completely different from the usual PTFE or PTFE. Teflon or ceramic coatings-to the benefit of health. It does not contain solvents and resins that outgas in the furnace and are harmful to health.