Teflon-free pans
What is Teflon?
Teflon®Is a brand of Fa. DuPont and stands for materials that consist of fluoropolymers or. These contain. The most widely used fluoropolymer is PTFE (polytetrafluoropolymer), which was discovered in 1938 by the chemist Roy Plunkett in the laboratories of DuPont. The special thing about PTFE is its chemical resistance and its anti-stick effect, which approx. 20 years after its discovery led to the development of the first "Teflon pan". A "Teflon pan" is a pan where the metal support, mostly steel, aluminum or copper, is coated with a coating that contains or consists of fluoropolymers, especially PTFE. Colloquially, "Teflon" is often used as a synonym for fluoropolymers. "Teflon coating" is often understood as a non-stick coating in general.

In addition to the advantages such as antistick effect, chemical resistance, low friction values, fluoropolymers/Teflon have the following disadvantages:
Toxic substances such as PFOA or PFAS can be produced during production and partially in use. (Perfluorooctanoic acid and perflourished alkyl substances) Fluoropolymers are relatively soft and not very resistant to wear. Die max. Temperature resistance is only 260 °C, the melting point is 320 °C.
Our selection Teflon-free pans
Are Teflon pans toxic?
Since "Teflon" is relatively soft at room temperature and even more so at elevated temperatures and does not adhere to metallic substrates due to its good non-stick properties, Teflon coatings are always processed in combination with other substances and fillers. The most commonly used coatings consist of 2 or 3 layers, with only the top layer having a high content of PTFE or other fluoropolymers. The underlying layers consist of resins that are much harder than the fluoropolymers and build up adhesion to the metal substrate.
When it comes to the question of toxicity, it is therefore necessary to consider the entire coating and not just the top layer, since substances are sometimes used for the underlying layers that are chemically and thermally less resistant than fluoropolymers (but cheaper). In most cases, the resins used are not resistant to hot water and alkalis, which can lead to bubble formation and peeling of such "Teflon coatings" after a certain period of time.
Teflon itself forms toxic substances at just over 200°C, which can kill birds like budgies in the kitchen. It is only at a temperature above 360°C that thermal decomposition begins with the formation of substances that can also be dangerous to humans. The symptoms that occur are flu-like and are also called Teflon fever. Smokers are particularly affected.
A Teflon coating is therefore not fundamentally toxic, but you should avoid overheating as much as possible. Hard roasting or even grilling can easily fall into temperature ranges where Teflon should no longer be used. If you are not careful, pans can reach temperatures of 400 ° C and more on the stove.
In addition, the production and processing of fluoropolymers/Teflon (PFAS) produces substances that are classified as harmful. The limit values of these substances should ev. In the EU in the next few years will be reduced to such an extent that the production of Teflon coatings will practically no longer be possible.
The large contact angle of the water drop shows the top DURA QUARZ®Antistatic effect!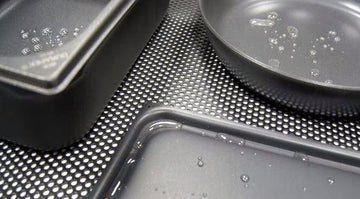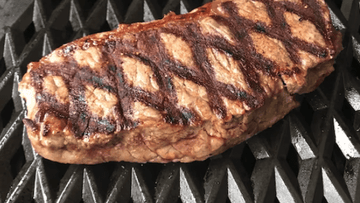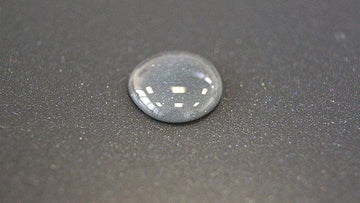 Alternatives to Teflon
Teflon-coated pans are the most used, especially in the lower price segments. In the meantime, however, other terms are usually advertised, for example "Titan", "Lotan". This is then a metalloxy spray layer, which essentially consists of aluminum oxide (Al2O3) and some titanium dioxide (TiO2). This forms a hard primer on which an ordinary Teflon coating is then applied. So no real alternative.
Uncoated aluminum pan: Aluminum can be dissolved in combination with hot oils or alkalis and then enter the food and thus into the body, where it is classified as carcinogenic. Uncoated cookware made of aluminum is therefore not an alternative.
Uncoated Steel Pan: Basically a healthy solution, but not very practical, since steel has no antistick effect and corrodes very quickly. The so-called burn-in of oils greatly improves the anti-strength effect, but not the corrosion resistance. When oils are burned in at high temperatures, toxic substances are also formed, which can be carcinogenic.
Uncoated stainless steel pan:Basically a healthy solution, but with a very poor non-stick effect. Practically not suitable for many dishes. The nickel it contains can cause discomfort for allergy sufferers.
Coatings in comparison
Steel enamel lie
Steel enamelled cookware is a healthy alternative, but with a very poor anti-adhesion effect and usually very heavy. The enamel is applied wet or as a powder to the iron material and then at approx. 850 °C burned in. The properties of the substrate material itself also change. The glassy coating is particularly hard but brittle and can easily flake off. In professional use, steel enamelled GN containers ("granite enamel") are not sufficiently corrosion-resistant and even cause rust in the ovens. Due to the high weight, the temperature absorption is also slow, the energy consumption is increased and the temperature regulation is difficult. Enamelling is only possible on carbon steel, also called carbon steel in modern German, i.e. rusting steel. On stainless steel and aluminum can not be enameled.
Keramikbeschichtungen (Solgel)
The coatings with names like "Ceradur", "Torlon" ... are sprayed as wet chemical (toxic) solutions and then injected at approx. 200°C eigebrannt. The basis for the coating is a silanian sol that gels during heat treatment and forms a glass-like network that is quite hard and very brittle. The coatings must not be applied too thickly, otherwise cracks will form. The non-stick effect is caused by a not very wear-resistant top layer, which is usually not very durable. These coatings also contain various high-risk substances and are usually only of shortened shelf life.
DURAQUARZ®
This novel patented quartz coating is similar to enamel, applied as a powder and baked in at high temperature. The coating forms a SiO2 framework, is not as hard as steel enamel, but significantly harder than Teflon coatings. The advantage is that it can also be processed on stainless steel and aluminum and that it has an anti-stick effect that is at least as good as that of Teflon/PTFE. However, the heat conduction is much better than with PTFE, which is why a crispy surface or a crispy surface is used for roasting and grilling. A very good tanning is achieved. This coating is Teflon-free and no toxic solvents (VOC) are used in the coating process. In tests by an independent institute, it was measured that DURA QUARZ®Practically does not secrete harmful substances. The temperature resistance is max. 450 °C, which is why this coating can also be used for hard frying and grilling. Cleaning in the dishwasher is also possible without any problems. Find out more!
Verdict: Teflon-free pans
Basically, when cooking, baking and grilling, you should always make sure that the temperatures are not too high. In addition to the cookware, the oils used and the food itself are sensitive to temperature and can form and separate toxic substances at too high temperatures. Cold-pressed, virgin olive oil is only available until approx. 140 °C temperature resistant, butter to approx. 180 °C. Potatoes should also not be fried or fried above 180 ° C. The substances that form at too high temperatures can have a carcinogenic effect, and sometimes even at lower temperatures than where Teflon/PTFE is dangerous. As soon as oil begins to smoke heavily, the temperature should definitely be lowered and the smoking oil disposed of (especially olive oil). Therefore, only use filtered and refined oils suitable for high temperatures for frying. Please only add the others at the end for the taste. We recommend pans with DURA QUARZ®Coating, a thousand times better than Teflon: