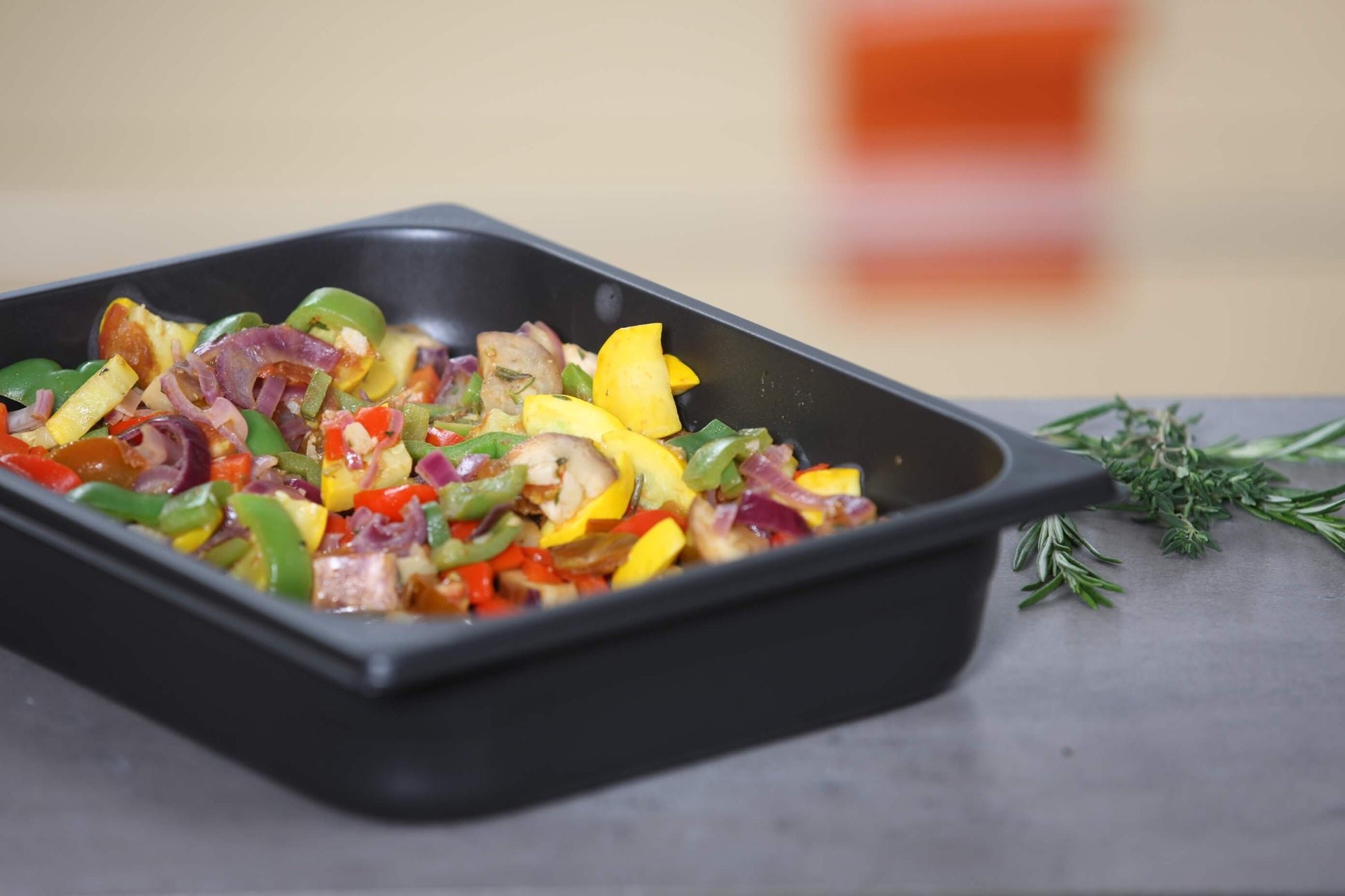 Sale price
69,00 €
Regular price
69,00 €
Tax included.
Product description
Shipping and Payment
X-Cook®Noble 18/10 stainless steel roasting and baking pan from HIFFICIENCY®
We provide the HIFFICIENCY®X-Cook®Roast and baking pan in front: The ultimate all-rounder for delicacies from the oven. Are you looking for a versatile kitchen companion that meets all your oven cooking requirements? Then you're at the HIFFICIENCY®X-Cook®Roast and baking pan just right, In professional jargon G Astro- N Orm- container. This incredible kitchen utensil is a true multi-talent that can be used to effortlessly prepare a variety of dishes. From grilling and roasting to cooking and baking cakes-X-Cook®Can do everything!
One finding: (Almost) Everything can also and often even easier In the oven Prepare instead of on the stove. Professionals use the oven much more often than amateur cooks. Professional chefs swear by the oven because it simplifies the cooking process and delivers delicious results with less work and usually faster. With the X-Cook®By your side, you can now enjoy the same comfort and quality in your own kitchen.
With our innovative DURA QUARZ®Non-stick coating With 0,00% PFAS, our X-Cook provide®Roast and baking pans to ensure that your food does not stick to the vessel, so that it can be easily removed and cleaned without any problems. Say goodbye to the days when you had to grapple with stubbornly clinging food. Our X-Cook®Roast and baking pan can be effortlessly wiped with a damp cloth or simply put in the dishwasher for quick and thorough cleaning. It's that simple!
An outstanding feature of our X-Cook®Cooking accessories are the fact that baking paper is no longer needed. This is not only easier and environmentally friendly, but also makes for better tanned and more delicious food. The excellent non-stick coating allows you to enjoy perfectly cooked dishes without worrying about using or disposing of Harmful baking paper To have to do. This not only saves time and effort, but is also even more environmentally friendly.
When it comes to versatility, our X-Cook brings®Roast and baking pan with everything you need. Whether you're grilling juicy steaks, preparing vegetables perfectly, or baking delicious cakes, our roasting and baking pan is your ideal kitchen tool. The spacious design allows you to prepare large amounts of food, which makes them ideal for family celebrations or hosting guests.
The HIFFICIENCY®X-Cook®Roast and baking pan combines functionality with longevity. The basic material of our roasting & baking pan is 18/10 stainless steel. Stainless steel is noble and durable and designed for a long life. The robust construction, combined with the non-stick coating on all sides, ensures uniform heat distribution and thus consistent cooking results with every use. With the X-Cook®You can rely on your cooking skills.
In summary, the HIFFICIENCY®X-Cook®Roast and baking pan is the ultimate all-rounder for all your oven cooking needs. With its versatile uses, simple cleaning and long-lasting design, it is an indispensable kitchen appliance for professional and amateur cooks alike. Say goodbye to the annoying use of baking paper and take advantage of the comfort and quality that our X-Cook®Cooking accessories offers. Upgrade your oven experience with HIFFICIENCY®X- Cook®Today!
The advantages of our X-Cook®Roast and baking pan at a glance
Thanks to our DURA QUARZ®PFAS free non-stick coating unique

Non-stick properties up to 450 °-nothing sticks anymore
No baking paper needed, little or no fat
Gets hot faster with better heat distribution-therefore very good browning behavior for food
Easy and quick cleaning: simply wipe with a damp cloth or put in the dishwasher (dishwasher safe)
Designed for a long life, thanks to a fine 18/10 stainless steel (0.8mm thick material)
Absolutely food-safe
No PFOA, PFAS, no solvents, no NMP; no phenols-clean and healthy
For roasting, baking, serving and storing-also in the refrigerator
Learn more about HIFFICIENCY®Products with non-stick coating
The prices stated on the product pages include statutory VAT and other price components.
Within the German mainland, we deliver with DHL for orders for a freight fee of €5.75. From a value of goods of 100,- €, the freight flat rate is waived.
However, no delivery can be made to packing stations.
You can choose to pay in advance, PayPal, invoice, direct debit or credit card.
If you would like a delivery to an island or abroad, please ask for the cost by e-mail to info@acs-coating.de.
Don't miss a thing!
Enter your email address below to be the first to know about new products and product launches.
I agree to the Terms and Conditions .